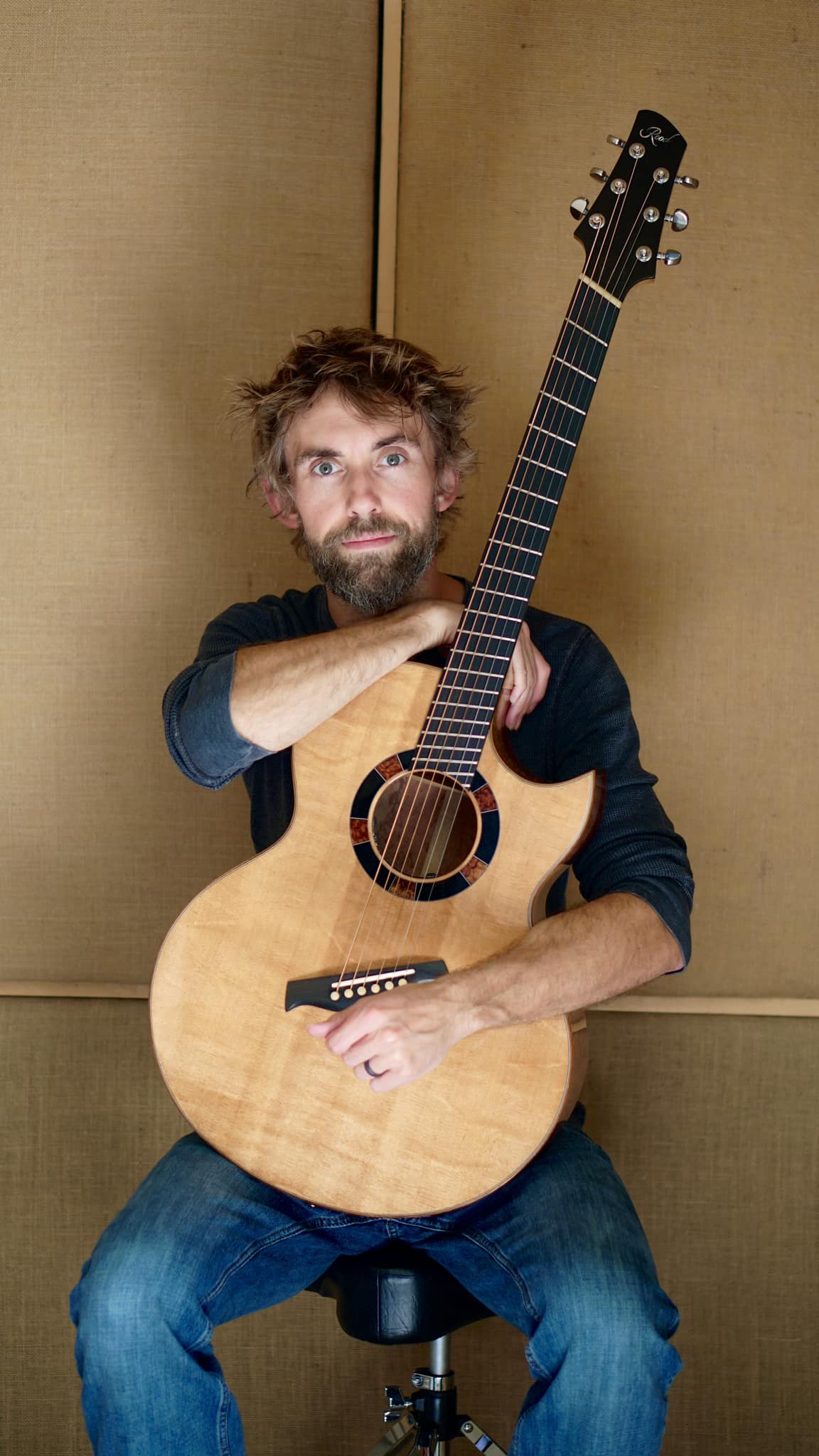 New Guitar Alert!
This instrument is a fan fret baritone made by Bryon over at Rood Guitars…and it's amazing! I'm incredibly excited to add it to the arsenal.
The story behind this guitar…
Bryon got in touch with me back in 2015 when he was still in luthiery school out in Arizona. He'd been listening to my music for a while and said he wanted me to be his first artist when he started his company.
So we got to work dreaming up a guitar. Again, this was 8 years ago. My style was different, my dreams were different…I was different! We designed it to be tuned CFCEGC, which is a whole step down from my most common tuning, DGDF#AD. I wanted something with a little bit more bass response than a standard acoustic. Big Body, and I always liked the idea of fanned frets.
And going into it, we knew that Bryon would have to finish school, then do a 4 year internship…we were well aware that it might be a while before this dream became a reality.
And over the course of 8 years, Bryon honed in on his craft. Learned more and more at Roberto Venn School of Luthiery and then built several guitars under the tutelage of Scott Walker in Santa Cruz.
And I started thinking more and more about what this guitar would be capable of when Bryon finished it. I thought about singing with it, how that lower register might support my voice…the possibilities.
And so when Bryon brought it to me, I was ready to get my hands on it. And WOW, I'm just absolutely blown away by the feel, the sound, the depth, the character…but most importantly, the inspiration this instrument is bringing to me. It's truly one of a kind, feels like it has a soul to it, and the songs and ideas that it's stirring up are very new and exciting.
A few notes about Bryon over at Rood Guitars: I've never met someone who's personality is better-suited for the field of building guitars. I think it's a combination of his attention to detail and his absolute enthusiasm for the craft…I can follow a lot of guitar-building lingo, but Bryon is a whole nother level of understanding and just BEING in that world. Those aspects combined with his work ethic and the fact that he doesn't seem to need to sleep…He's exactly who I want building and working on my guitars.