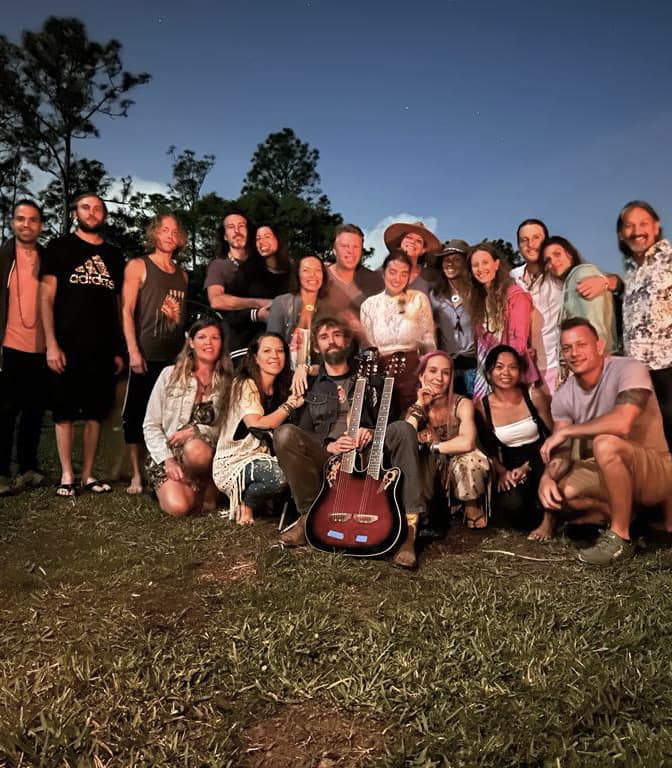 Community…It has been an absolutely lovely birthday week celebrating life with my wife and my friends.
These are my people - and this isn't even close to all of them! We found each other during the pandemic. Nora made some friends early on in 2020 and I was slow to come around…I hadn't had a community of my own in a long time.
When we were constantly on the road we would bounce from community to community, night after night. And it was awesome, and we've made a lot of really good friends over the years!
But the idea of "settling down" into a community of my own…I just always felt like it wasn't for me. Like I didn't trust it or something; afraid of getting hurt, afraid of being seen for myself, for who I am. Not seen as Mark the performer, the musician or whatever…
To just be seen as me.
Oh that's scary.
Being part of a community takes vulnerability; it takes humility, opening up, sharing…
It takes listening, holding space, allowing people to be themselves. Allowing yourself to be you.
It takes hearing and acknowledge things that you don't want to look it. Things you don't want to face.
It takes long talks around a bonfire at four in the morning. Talks about the real "meat and potatoes" of life (or "tofurkey and quinoa" if your friends are vegan). The fears…the traumas…the pain…
And don't forget about the fun. The laughter, the joy, the blessings, the dancing and the celebrations.
All of those. The tough parts and the buttery ones (meat & potatoes)…are all part of being human.
And they can all help us to grow.
And there's something about friends that makes that growth so much more possible. So much more fun.
A verse keeps coming to mind, Matthew 18:20 when Jesus says, "For where two or three gather in my name, there am I with them."
Jesus's words are in reference to prayer…And I like to believe that when we gather together in friendship, in love, in community - helping one another, being there for one another, listening to one another…truly living life together…this is a prayer in itself.
And it's not a prayer that asks for anything. It's a prayer of gratitude. A prayer of love. A prayer of giving thanks for the goodness of life.
And as we pray that prayer in community, the presence of God is also among us.
Maybe it's a stretch…but I really believe that some of the most sacred time we spend is in friendship and in fellowship with one another.
Much love, y'all.